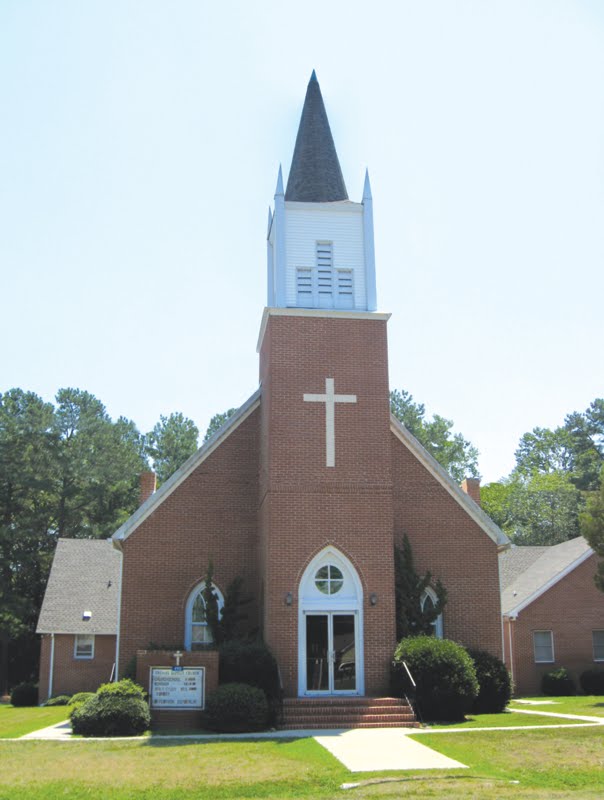 The early beginnings of the Calvary Baptist Church are clouded in mystery. Thus, the remains practically no recorded record of the years of the Dr. Levi Reese Ball, Calvary Baptist Church first pastor. Tradition has it that Calvary is the outgrowth of what was known as the "old" St. Johns Baptist Church. Old St. Johns was located in the lower end of Lancaster County, between Kilmarnock and White Stone. During this period Reverend Levi Reese Ball was preaching for the congregation. Records of the exact size of the congregation are unavailable. It seems that during these early days, the old building was beginning to crumble, making it unsafe for worship service. The Trustees, under the leadership of Reverend Ball, contacted a Mr. John Palmer, who lived in the village of Kilmarnock about selling them a tract of land. The land sold by Mr. Palmer to the then trustees of St. John Baptist Church, was purchased at a cost of $37.60, with the deed being recorded in the County Clerk's office in Heathsville, Virginia. The trustees of record were Stephen Smith, Walker Byrd, A. J. D. Harmon, J.S.W Pinn, and William McCampbel, all whom became deacons and trustees in Calvary Baptist Church. The evidence seems to suggest that when the congregation moved the name of the church changed from St. John to Calvary Baptist Church. The Calvary Baptist Church was organized as a Baptist congregation on June 11, 1892, in Northumberland County, Virginia. Reverend Dr. Levi Reese Ball, served Calvary Baptist Church until 1899, Dr. Ball was a gifted preacher, teacher, and Great Leader.

Calvary Baptist Church has progressed throughout the years and continues to be the leading congregation of the Kilmarnock Area and the Northern Neck of Virginia. Over the years several pastors would lead the way such as: Rev. Dr. Levi Reese Ball, Rev. Dr. D. H. Chamberlayne, Rev. Paul Pollard, Rev. Samuel Thomas, Rev. Frank Bosworth, Rev. Howey R. Young, Rev. William Olds, Sr., Rev. Thomas B. Davis, Rev. Rosamond C. Kay Jr., Rev. Olive B. Brinkley, Rev. Marian F. Hall, Rev. Wilfred E. Johnson, Rev Dr. Alexander Lincoln James, Jr., Rev. Joseph D. Martin, Rev. Dr. Geoffrey V. Gunns, Rev. James S. Wellington, Rev. George E. Comfort, Rev. Lamont D. Brown, Rev. Myron Sutherlin. These Great Pastor lead Calvary Baptist Church to become instrumental and dedicated to the spiritual and physical growth of the church. Calvary Baptist Church is blessed to have a young pastor who is vibrant, wise and full of the Holy Spirit to lead and guide the congregation to its higher dimensions; and that is in the person of the Right Reverend Travis L. Copeland who serves as Calvary's twenty-first pastor. On December 21st, 2011 Rev. T.L. Copeland was elected as Calvary Baptist Church twenty-first senior pastor. Rev. T.L. Copeland began to serve the church as pastor-elect on January 1st, 2012 and was officially installed as Senior Pastor on April 28th, 2012.
Enter your prayer requests or praise here
Financial

posted by: Phil Chavez on 12/15/2013


Please Pray GOD Blesses me to be able to always have money to pay bills, buy food, and help others. Please Pray GOD Blesses me financially to be able to buy Christmas presents this year; haven't had any money to buy Christmas Presents for 14 years. Thanks for your Prayers...Phil Chavez
I will pray

6 people are

praying.