Reverend Travis L.Copeland, Senior Pastor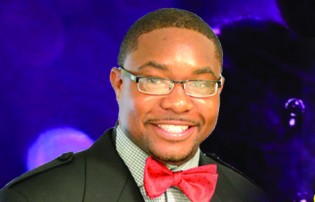 Reverend Travis L. Copeland is the twenty-first Senior Pastor of the Calvary Baptist Church. He attended Suffolk Public Schools, and graduated from Nansemond River High School. He continued his education at Tidewater Community College and attended Hampton University. Pastor Copeland matriculated to Norfolk Theological Seminary and College with a Bachelor of Arts in Biblical Studies. Reverend Copeland is a Son of the Missouri Baptist Church where he was licensed and ordained in the Gospel Ministry under the leadership of the Reverend Ronnie R. Boone, Senior Pastor.
Pastor Copeland served Missouri Baptist Church faithfully until being called to the Pastorate of the Calvary Baptist Church. December of 2011 Pastor Copeland was called to Calvary and started on his pastoral duties January 1
st
, 2012 and was later installed as Senior Pastor April 28
th
, 2012. Within One Year, God placed in Pastor Copeland's heart the theme or motto for Calvary Baptist Church
"A Christ Centered Church meeting the needs of the Community"
. Pastor Copeland preaching and teachings created an atmosphere for young and old to come Worship, Grow and help serve one another and within the community. Calvary has grown numerically in membership and Calvary continues to be a progressing church. Under the leadership of Pastor Copeland, there are several accomplishments that has been made together as a church: The Church is Identified by a "Seal", Website, Social Media such as Facebook, Purchased the adjoining property next door to Calvary Baptist, Instrumental in getting (2) minority teachers within the school system (Lancaster Public Schools) from Hampton University, new ministries has been added to the church, and "The Calvary Baptist Church Learning Center", a Learning Center that enhances and help our church and community; last but not least, people have gotten saved and blessed under the leadership of Pastor Copeland. Pastor Copeland's Ministry has been about Faith, Progressing Forward, Unity and being Kingdom Minded to pursue the blessings that God has in store for Calvary Baptist Church and the community. His vast leadership and genuine passion have led many young souls to a relationship with God.
Reverend Copeland is a member of the Tidewater Metro Baptist Ministers Conference, Affiliated with the Northern Neck Baptist Association and It's Commissions, the Baptist General Convention of Virginia. Rev. Copeland is also a Covenant Son of "FLAME" (Fostering Leadership and Ministry Excellence) under the leadership of his Covenant Father the Rev. Dr. Dwight Riddick of the Gethsemane Baptist Church, Newport News, VA. This ministry seeks to provide spiritual covering and light the pathways of ministry for Leaders for personal growth and spiritual leadership and quality development in God.
Reverend Copeland is inspired by his mother
Ms. Helen A. Copeland
and grandmother the
Late Great Mother Rosa Lee Copeland
who taught him the ways of the Lord, their teachings has lead Reverend Copeland to be one of the most profound and insightful voices of his generation. While Reverend Copeland is highly respected for the many gifts that he brings to the body, his greatest impact comes from the pulpit. His sermons have challenged, encouraged, convicted, strengthened, and equipped many believers, both young and old. Many are encouraged by his strength, comforted by his friendship, and inspired by his example to teach toward transformation and liberation from defeat.